There is a phrase in Punjabi, "Sootay Sher Nu kyon Jagauna" which loosely translated means why awaken sleeping Lions. Lions are known to sleep up to 20 hours a day, but it's what they do when they're awake that they are well-known for. When Sri Darbar Sahib was attacked, along with over 40 other Gurdwaras in Punjab, the Sikh world stopped in its tracks. Similar for thousands of Sikhs worldwide, the attack had a profound effect on Bhai Beant Singh. One might say that he too was a sleeping lion, as from being the bodyguard of Indira Gandhi, and a civil servant for the government, his conscience was awoken and his actions will forever reverberate through history.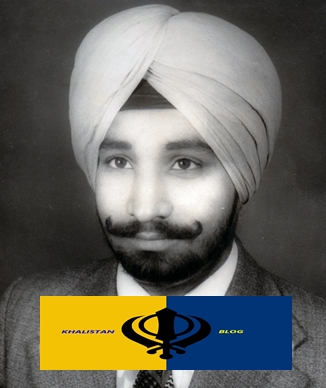 Shaheed Bhai Beant Singh was born to Sardar Sucha Singh and Mata Kartar Kaur on May 8, 1950 in village Maloya (now an urban estate of Chandigarh). Bhai Beant Singh was one of 5 brothers and belonged to a family who had been involved in restoring the sanctity of Gurdwaras in the pre-partition era. Bhai Beant Singh's grandfather Giani Partap Singh was an active participant of many agitations including the Nankana Sahib Morcha and Gurdwara Sudhar Lehar (Reform Movement) during the British occupancy of the country. Keeping with tradition, the grandson of Giani Partap Singh went on to restore the pride of the Sikh Nation.
Between 1961-62 Bhai Beant Singh had taken Amrit but was unable to uphold the Sikh code of conduct (Maryada) for which he had deep regret.
Bhai Beant Singh was an intelligent and educated person, having received his primary education from the local village school he studied for a short time at Hameerpura and passed 8th class at Khalsa School (Kharar). Bhai Sahib studied at various schools and institutes between the years 1967-1970. Bhai Beant Singh completed his diploma in Russian language from Punjab University and received Bachelor of Arts (BA) degree in 1970.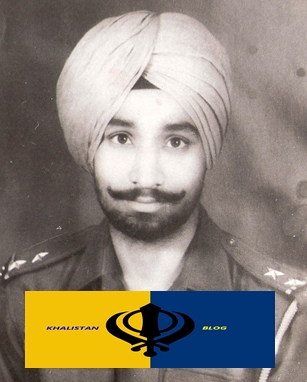 In 1972, Bhai Beant Singh moved to Delhi where he gained employment as a sub-inspector and worked in the Security Branch of the Central District and Northern Delhi areas. During his service, Bhai Beant Singh resided at Vishnu Garden and became acquainted with another sub-inspector by the name of Gurdev Singh who took forth the marriage proposal of Bhai Beant Singh to Sardar Gurcharan Singh's home, and on January 23, 1976 Bhai Beant Singh married Bibi Bimal Kaur. The couple were blessed with 3 children; Bibi Amrit Kaur (1977), Bhai Sarbjeet Singh (1978) and Bhai Jaswinder Singh (1983).
Also living in Delhi was Bhai Beant Singh's uncle (fuffar), Bhai Kehar Singh of village Mustafabad near Fategarh Sahib, a devout Sikh who was employed as an Assistant in the Directorate General of Supply and Disposal, New Delhi. As both lived in the same city, they would often meet and became closely acquainted.
According to those who knew him well Bhai Beant Singh was a warm, caring and charitable man. From his village, many remember him for his righteous and ready to help attitude. Bhai Beant Singh was hard-working and honest, and these characteristics along with his courage and dedication, helped him progress speedily through his career in the police. His last employment post was as the personal bodyguard to Indira Gandhi, the Indian prime Minister.
Bhai Beant Singh's family was politically inclined toward the Congress party, as in them days it gave the impression that is was the only party in favour of the poor. Bhai Beant Singh's employment was also the result of Congress backed reserve quota thus naturally the families political support was tipped into the balance of the Congress party. But all this was to change as the Prime Minister of India, Indira Gandhi ordered the attack on the centre of the Sikh Faith, Sri Darbar Sahib in June 1984.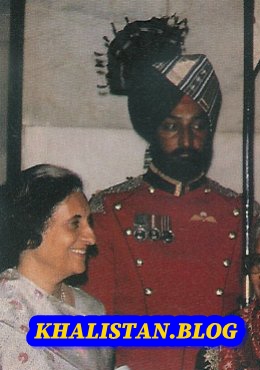 Insider sources have stated that Indira Gandhi chose her two Sikh bodyguards, not only for their distinguished careers and competency, but for being Sikhs. She was warned by her advisers that she should remove all Sikhs from her employment, as she was responsible for the hurt and anger caused to the Sikh Nation. Yet she was arrogant, and wanted to show the world that she had suppressed the Sikhs, that this so-called martial race was not to be feared of. That she could destroy the highest temporal authority for the Sikhs (Sri Akaal Takhat Sahib), yet she would not suffer any repercussions. Although a risky and foolish decision, it is one she adopted for PR as well. Arguing that how could she be racist or discriminate towards the Sikhs when her own bodyguards were Sikh.
On October 31, 1984 Bhai Beant Singh & Bhai Satwant Singh punished Prime Ministed Indira Gandhi for her crimes against the Sikh Nation & in the process Bhai Beant Singh attained Shaheedi.
The following with extracts from an interview with Bibi Bimal Kaur, wife of Bhai Beant Singh sheds light on the build-up from June 1984 till this fateful day.
Extracts from interview with Bibi Bimal Kaur (published in Vangaar 1993):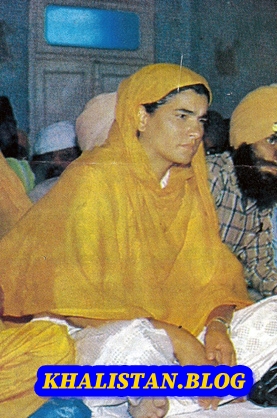 Did you know that Bhai Beant Singh was going to assassinate Indira Gandhi?
No. He did not divulge this information with me. However looking back in hindsight, all the pieces of the jigsaw fit together. After the attack in June 84, as all Sikhs at that time, we were hurt, shocked and confused by the actions of the government.
Sardar ji took leave from work and we visited Sri Darbar Sahib. The extent of the devastation, the number of innocent Sikhs killed and atrocities committed was incomprehensible; it shook Sardar ji (Bibi ji referred to Bhai Beant Singh as Sardar ji throughout interview) to his core. He felt that it was done to suppress the Sikhs. He spent hours walking the Parikarma, through the blood soaked rubble, trying to absorb what happened that day.
He was inspired and in awe of the defence put up by the handful of Sikh Freedom Fighters who fought to protect the sanctity of Sri Darbar Sahib, and also evacuate as many pilgrims as possible. Inspired by how they stood up against oppression, later on when he became more religious, I would always note his voice tremble during his Ardaas, when he would come to the reference to the Shaheeds "Jehna ne Sikhi layee kurbanitaan dittiyaan" (blessed are those martyrs who sacrificed their lives for the survival of Sikhi).
The earliest and most significant clue as to his later actions and intentions was when at Sri Darbar Sahib, he randomly stated "I want to become a Shaheed". I asked him what would happen to our children, the youngest of whom was two at the time. He responded "what about the young children that were made Shaheed here, what about the children that lost their parents here, they will have to manage, and so would our kids". He didn't say much else, and I didn't take it serious, for after all people say a lot in grief.
Shaheed Bhai Kehar Singh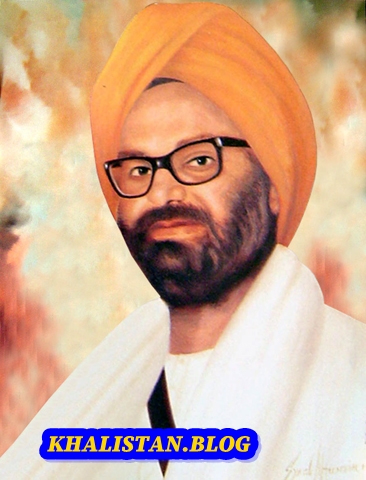 Bhai Kehar Singh was a very spiritual and religious man. The two had a lot of affection for each other. During the last few months he would go and see Bhai Kehar Singh a lot, and he would frequent our house regularly. I later learnt that one day when they went to the Gurdwara to listen to keertan, a prominent Keertani had performed keertan in Bairaag (deep and emotional mood), and had done Katha (sermon) about the attack on Sri Darbar Sahib. Sardar ji broke down in tears, then Bhai Kehar Singh turned to him and said "Singh Soorme (warriors) do not cry, they fight oppression to get justice". He had a very strong role in getting Sardar ji prepared spiritually for the mission he had chosen to undertake.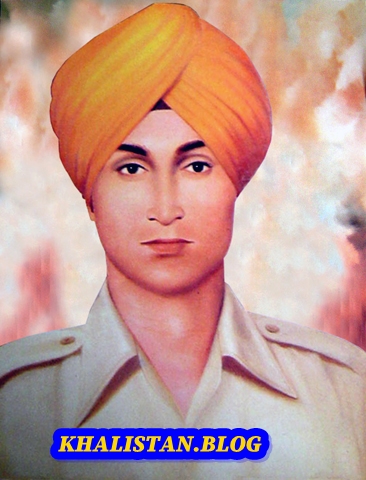 I only got to know Bhai Satwant Singh's name after the assassination. Even though he would come around our house a lot and Sardar ji would go around his. He was a very young and sincere man, and now that I think back, they spent most of their time in deep and serious conversations. It is highly commendable that at a young age (21) he took full responsibility and issued a statement as to why the actions had to be carried out. I later learned that Sardar ji and Bhai Satwant Singh had been trying to assassinate Indira Gandhi since August and that there had been many attempts which were unsuccessful.
Leading up to the assassination
From June 1984 he was never the same again. His thoughts and actions became slowly more religious. He started to wear his Kachera again, go more regularly to the Gurdwara, and keep company with more religious people like Bhai Kehar Singh.
One day he came from work and said that a Baaj (Falcon) was seen circling the Prime Ministers quarters and settled on a tall tree. All the security staff were amazed and even bowed to it in reverence, even when one started a motorcycle to see if it would be frightened, it stayed, only later flying off. I said to him that he never believed in such things before, but he didn't reply.
The tenth master, Guru Gobind Singh Ji was referred to as 'chittay baaja wala", the keeper of the white falcon. From time to time a white baaj is seen in the mountains of the Himalayas in the surrounding areas of Hemkunt Sahib where Guru Gobind Singh ji performed much meditation. After the attack on Sri Darbar Sahib, many saw a white baaj, seen by many it circled and perched on a branch, Sikhs took this as a sign that the Guru was with them.
As Bhai Beant Singh spoke of this event with Bhai Kehar Singh, he was reminded of the time when Bhai Beant Singh was sat listening to kirtan at Moti Bagh Gurdwara and undercame a spiritual and emotional sensation as tears began flowing from his eyes, and how at that point Bhai Kehar Singh had said "you must do something for your Kaum".
Co-incidentally in these days, another Sikh in Indira Gandhi's protection force, Bhai Satwant Singh of village Agwaan, district Gurdaspur had returned from his vacation. Whenever Bhai Satwant Singh would meet Bhai Beant Singh, he would always talk about the atrocities being carried out in Punjab. Bhai Satwant Singh said "The Sikh faith requires sacrifice, only then can this burden be lifted." Sardar Satwant Singh was fully prepared to give his head for the Sikh Kaum. They both then began planning…
One day he came home and said "I am going to take Amrit". I was surprised by this and said that how come he didn't discuss it like we usually discussed things. His reply was "you know how I used to drink with my friends before, and sometimes I would drink a bit too much, you used to get angry…" I thought to myself well at least he won't drink again and was pleased.
Around September 1984 (just under a month before his Shaheedi), he would go to the Gurdwara every day, he became disinterested with worldly affairs and became very sincere and passionate in his Sikhi.
On October 13, 1984 whilst sitting with his wife, Bhai Beant Singh began talking as if he was preparing for the future, in earlier conversations Bhai Beant Singh had stated "my wish is to attain Shaheedi" to which Bibi Bimal Kaur asked "what will become of our children?" Bhai Beant Singh confidently replied "Waheguru will protect them", with this Bhai Sahib also added that he wishes to re-take Amrit.
The following day; October 14, 1984 Bhai Beant Singh returned home wearing a kurta pyjama, with an open flowing beard, adorning the 5 Kakkars (Sikh articles of faith) and a neatly tied turban. Bibi Bimal Kaur was shocked and asked "Did you visit Moti Bagh Gurdwara and take Amrit there, did u go alone?" Bhai Sahib replied, "No. Uncle (Fuffar – Bhai Kehar Singh) Ji went with me, on the 17th of October you will also take Amrit and aunty (Bhua) will go with you, be ready". Like this both husband and wife became Sikhs of the Guru.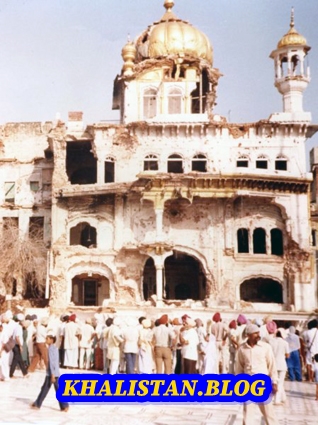 On the October 20, 1984 Bhai Beant Singh along with his wife Bibi Bimal Kaur, Bhai Kehar Singh and his wife Bibi Jagir Kaur arrived at Amritsar. After paying obeisance at Sri Darbar Sahib they performed sewa in the Langar hall. The following day Bhai Beant Singh and Bhai Kehar Singh reached Sri Akal Takhat Sahib where Bhai Satwant Singh was awaiting them. As of October 12, 1984 the Kar Sewa of the Sarovar (holy pool) had begun, firstly all 3 Singh's partook in the Kar Sewa then returned to Sri Akal Takhat Sahib where Bhai Beant Singh & Bhai Satwant Singh did ardaas:
"ਹੇ ਅਕਾਲ ਪੁਰਖ ਜੀਓ। ਆਪਣੇ ਸੇਵਕਾਂ ਉੱਤੇ ਕ੍ਰਿਪਾ ਕਰਨੀ ਕਿ ਅਸੀਂ ਇਸ ਪਵਿੱਤਰ ਸਥਾਨ ਦੀ ਬੇਹੁਰਮਤੀ ਲਈ ਜ਼ਿੰਮੇਵਾਰ ਇੰਦਰਾ ਨੂੰ ਉਸ ਦੇ ਪਾਪਾਂ ਦੀ ਸਜ਼ਾ ਦੇ ਸਕੀਏ…।"
("Dear Lord, provide your servants with your blessing so that we may punish Indira who has committed sacrilege and desecrated this holy place…")
The same evening, on October 21, 1984 Bhai Beant Singh, Bhai Satwant Singh & Bhai Kehar Sigh returned to Delhi. On the October 24, Diwali was being celebrated. On this day Indira Gandhi gifted all her staff and security guards with a box of barfi (Indian sweet) and 100 rupees each, however Bhai Beant Singh did not accept his Diwali gift.
Last day

The government scheme is likely to have been Operation Woodrose, launched by the military, which involve indiscriminately abducting, torturing and killing young Sikh males, which by the mid-90s had claimed over 100,000 lives. Insiders have also stated that Indira Gandhi were embarrassed and humiliated by the defence by the Sikhs at Sri Darbar Sahib. What should have taken only a few hours according to military analysts, lasted almost a week. Even the Indian army generals and soldiers later admitted that the Singhs were formidable opponents who kept several battalions from advancing and sent many commandos and highly trained soldiers to their graves.
According to historian Rajni Kothari 'Evidence from various sources is mounting that soon after Operation Bluestar and the response thereto in parts of Punjab, a plan of retaliation by identifying Sikh targets ranging from households to commercial establishments to Gurudwaras had been undertaken including the planning of logistics and the techniques to be employed.'
The Economic and Political Weekly supported this, in an article published on 8th December 1984 stating "The Delhi violence was well planned and well organised. It would have burst forth even if Indira Gandhi had been alive".
Sardar ji was very eager to meet Paramjit Singh so we then went to his office to meet him. I waited outside for Sardar ji who came out after 5-7 minutes, and said that he was not there either. Paramjit Singh later told me that he was in the office, Sardar ji told him that this would be the last time they would meet, and to look after us in his absence.
After that we went to the local market to do some shopping. It was here that Sardar ji, said to me "Bimal Kaur I want to eat Makhi di Roti and Saron da Saag", I said to him that it was getting very late, but he insisted that he really wanted to have that for dinner. I said fine, but he only picked up a small quantity, and I said we might as well make a lot of it, to which he replied "even this will last you for several days" (as he would not be around to eat it).
On the morning of October 31, 1984 Bhai Beant Singh was ready for work earlier than usual and following conversation took place:
Bibi Bimal Kaur – Are you leaving early today?
Bhai Beant Singh – Yes, I shall be visiting Gurdwara Bangla Sahib before starting duty.
Bibi Bimal Kaur – But you usually go in the afternoon.
Bhai Beant Singh – I shall only be going this morning.
Bhai Beant Singh & Bhai Satwant Singh reached the residence of Indira Gandhi and their plan was about to be put into action, however an issue arose. Bhai Satwant Singh had been stationed further away than expected. Bhai Satwant Singh had to improvise, he spoke to another security worker and asked to switch positions as he had an upset stomach and needed to be near a toilet. In this manner Bhai Satwant Singh assumed his position.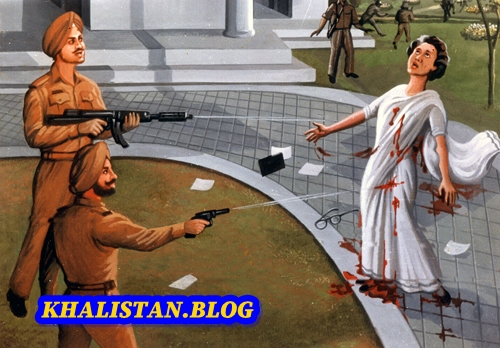 The Indo-Tibetan border police captured the Singhs as they dropped their weapons and were taken to the guard room. Both Singhs had planned if caught alive they would openly take responsibility for the killing and unveil the evil womans deeds to the world via court hearings. But for the Indo-Tibetan border police officers, Bhai Beant Singh and Bhai Satwant Singh were a problem and in order to cover their incompetence wanted to kill both Singhs. Tarsem Jamwal and Ram Saran Das, officers inside the guard room began shouting obscenities at both Singhs, till the point that Bhai Satwant Singh made a move to grab one of the officers weapons. Immediately the other officers opened fire, as Bhai Satwant Singh was hit by a bullet, Bhai Beant Singh fell on top of him to cover him from the incoming firing and attained Shaheedi on the spot.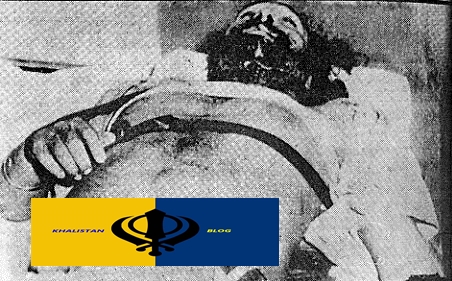 Following this both Singhs were taken to Ram Manohar Lohiya Hospital where the doctors declared Bhai Beant Singh's death. Bhai Satwant Singh survived and was then locked away. (On January 6 1989, Bhai Satwant Singh and Bhai Kehar Singh were hanged and attained Shaheedi).
Your opinion on the assassination, and the Sikh Freedom Movement
When a tyrant is born, his killer is also brought into this world. Sardar ji was not coerced, or acted in a moment of madness. Instead he bettered himself religiously, he believed that by becoming more spiritual and becoming a Gursikh he would be gifted the Seva (boon) of following his Guru's Hukam (teachings) by standing up against oppression, and delivering justice that thousands of Sikhs who were killed, and the desecration of Sri Darbar Sahib.
I'm very proud of being his wife, the government can say what they want, because at the time of Shaheed Bhagat Singh he was treated as a terrorist by his own government. They did not support him then, but today there are statues of him all across India, and government ministers queue up to adorn him with garlands of flowers.
I believe everyone in Punjab should join together and join the movement. The Indian government is an oppressive regime, despite what is said in its constitution, false imprisonment, torture and illegal killings are rife. They seek freedom movement is for greater financial, religious, social, cultural and political freedom for all Punjabis. The Congress government has amended the constitution 65 times yet it cannot change it once to acknowledge the Sikhs as a separate religion. They want us to stop our movement and compromise, but they do not wish to change, they do not which deal with the root issues, because grievances.
After the assassination of Indira Gandhi, Bibi Bimal Kaur became more politically active, following in the footsteps of her husband she spoke out against State oppression (she later made headlines for a fiery address in the presence of the then Prime Minister Rajiv Gandhi). In contrast to the impression the Indian government likes to give that Sikh Freedom Fighters were extremists, and did not have popular support, the fact that both Bibi Bimal Kaur and Baba Sucha Singh (Beant Singh's father) were elected as Members of Parliament in 1989, shows the support that they actually had.