Shaheed Bhai Gurdial Singh Ji was born in 1946 in village Modai in District Amritsar. His father's name was Bhai Sohan Singh Ji and his mother's name was Gulab Kaur Ji. He was married to Bibi Jagir Kaur and had four children.
From a tender age Bhai Gurdial Singh was an amazing soul. In his youth he went on to pass his tenth class in the government school in Attari and then started helping at home with the farming work.
Bhai Gurdial Singh started doing Sehaj Paath Abyass of Guru Granth Sahib. From the beginning, he did Paath from Laridaar Saroop (Guru Granth Sahib composed of words linked together) and slowly he learnt to do Akhand Paath. He then started doing Sewa of Paath near and far from his village and never took any money in return.He then started going to Mehta and other places for Satsang. He took Amrit from Bhindrawale Jatha in 1976. At that time his wife was not ready to take Amrit but later on she also agreed. He would rise daily at Amrit Vela, do his Nitnem and recited Sukhmani Sahib as well. He also studied religious books and used to acquire these from his close friends. At the time of his Shaheedi he was reading 'Gurmat Nirnai Bhandar'.
With his loving persuasion many other Sikhs in his village also took Amrit. He was always the main organiser for arranging programs at the Gurdwara and at other religious events. Everybody used to take advice from him before going ahead with any event.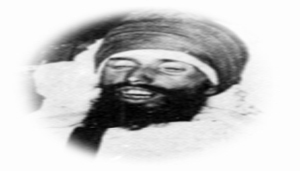 Bhai Gurdial Singh went to Amritsar the day before the massacre. He wanted to do Darshan of the Guru's Darbar, to bathe in the Amrit Sarowar and had a desire to meet Baba Jarnail Singh Bhindranwala. On the day of Vaisakhi, after doing Ishnaan and Nitnem, he went to the Divaan at Manji Sahib. He was listening to the Kirtan, when he decided to leave with the Gursikhs who went to protest and courted martyrdom.