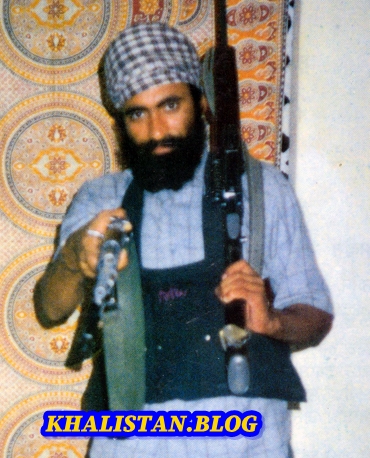 Bhai Mangal Singh 'Bamb' was born in the year 1964 in village Arjan Manga, PS Mehta Chowk, Tehsil Baba Bakala, District Amritsar. Upon completing his primary education from the local village school and passing 10th grade at Rangarh Nangal High School, Bhai Mangal Singh began taking responsibility of his household duties. During these times the Sikh freedom movement was at its peak, Sikh youth from across the nation had taken arms to avenge the desecration of their holy shrines and free themselves from the shackles of slavery. Born and raised in a Gursikh family, the concept of self-sacrifice and martial tradition came naturally to Bhai Mangal Singh, consequently he became a recruit of the Khalistan Commando Force and participated in completing many successful actions alongside the Jathebandis Lt. General – Shaheed Bhai Sukhdev Singh Jhamke.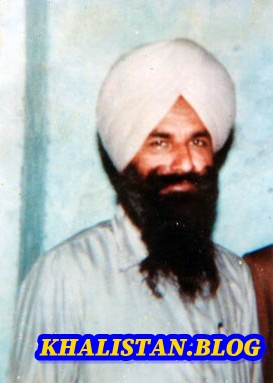 In 1988, Bhai Sukhdev Singh Jhamke faced an encounter with the Govt backed fake Nihang Ajit Poohla. Ajit Poohla was a vicious thug who had been given the official police rank of DSP, together with the backing of Police Cheif JF Ribeiro and Punjab Governor SS Ray was given full permission to rape, loot and murder families of Jujharoo Singhs. Despite being outnumbered in the encounter, the KCF Singhs did not back down and accepted the challenge head on, as a firefight took place the Jujharoo Singhs immediately eliminated 2 of Poohlas men and very soon the police CAT along with his gang of cowards were seen escaping in their CRPF jeeps.
The very next morning Poohla attempted to save face and avoid the embarrassment of the nature of his escape by planning another attack on a group of Jujharoo Singhs. On the advice of local Akali leader Jeevan Singh Umranangal a statement was published in Jagbani newspaper on their behalf which read "We have identified Sukhdev Singh Jhamke as the man who attacked Poohla and I. As a result of punishment, 'Nihang' Ajit Poohla will bring a 90 year old man to Sukhdev Singh's village of Jhamke and marry him off to a girl from the village." In November, 1988 Ajit Poohla reached village Jhamke along with 'Sarkari Jathedar' Umranangal, they brought with them a wedding party, group of musicians and a 90 year old man to carry out the humiliating act. The 'wedding party' marched through the village until they reached the home of Bhai Jhamke, Poohla instructed the 'wedding party' to stop and for the musicians to continue playing as the rest surrounded Bhai Jhamka's home to began singing, dancing and shouting obscenties. This continued throughout the entire day and news had reached Jujharoo Singhs in the nearby areas. Bhai Mangal Singh met with Bhai Sukhdev Singh Jhamke and together armed with rocket launchers attacked the police post which had been setup to provide security for Umranangal. Both Umranangal and Poohla narrowly escaped this attack but the name of Bhai Mangal Singh was now imprinted in the memory of the enemy.
Bhai Mangal Singh remained with Bhai Jhamke until the fateful day of April 14, 1989 when Bhai Jhamke breathed his last and attained Shaheedi. Bhai Mangal Singh continued with his Panthic Sewa and joined the ranks of the Khalistan Liberation Force under Lt. General – Shaheed Bhai Jugraj Singh 'Toofan'.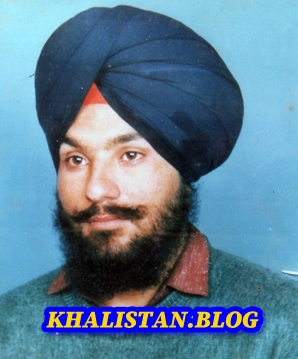 Under the KLF Bhai Mangal Singh participated in a number of successful actions including the kidnap of Congress leader Satpal Mittal's grandson in order to secure the release of Shaheed Bhai Ravinderbeer Singh 'Bhola' who had been arrested by Maharashtra police in the course of their investigation following a sensational bank robbery in the heart of Mumbai (Bambay). Shaheed General Gurjant Singh Budhsinghwala planned and executed a number of kidnappings of top MP's, Judges and senior Govt officials. This series of high profile kidnappings forced Rajiv Gandhi to personally intervene and coordinate the release of Bhai Ravinderbeer Singh 'Bhola'. During the time the politican's grandson was held captive, Bhai Mangal Singh personally ensured that the hostage faced no harm and was well looked after. Upon the release of Bhai Ravinderbeer Singh, the hostage was returned home safely and unharmed.
Until 1991 Bhai Mangal Singh operated in and around the Ludhiana District, where impressed by the nature of his daring actions he was given the nickname and began to be known as 'Bamb' by the other Singhs active in the area.
One of the Singh's very close to Bhai Mangal Singh was Shaheed Bhai Beant Singh 'Buta' of Ludhiana. In an unfortunate incident as Bhai Beant Singh was returning from a successful hit on a police Thanedar he crossed paths with another Jujharoo group. Bhai Beant Singh was in the disguise of a police officer in order to complete his mission but this led the other group to believe he was indeed an actual police officer, as a result the group fired upon Bhai Beant Singh. Bhai Beant Singh was forced to return fire, in this cruel twist of fate Bhai Beant Singh and another Singh from the other group attained Shaheedi.
On November 5, 1991 Bhai Mangal Singh 'Bamb' was en-route to Mehta Chowk when he was intercepted by the Police CATS of village Channan. Bhai Mangal Singh was severely tortured for 2 days which left him unable to walk or use of his arms, but the police were unable to extract any information from this brave soldier. Frustrated with Bhai Mangal Singh's response to their torture, Bhai Mangal Singh was killed in a fake police encounter. On November 7, 1991 SSP Parmjeet Gill announced to the media:
"Mangal Singh 'Bamb' who was wanted in connection with other 30 cases has been killed in an encounter at village Bhoewal near police station Jandiala, a large number of weapons and ammunition were also recovered from him."
Following Bhai Mangal Singh's Shaheedi, his body was not released to the family. Large numbers of sangat from surrounding villages and cities wishing to pay their final respects by attending Bhai Mangal Singh's Bhog were stopped at the entrance of the village by the Police and unable to proceed. The Keertani Jatha sent by Damdami Taksal was also refused entrance to perform Keertan at the Bhog ceremony.
Bhai Mangal Singh 'Bamb' following in the footsteps of his beloved brothers and comrades Bhai Sukhdev Singh Jhamke, Bhai Jugraj Singh 'Toofan', Bhai Beant Singh 'Buta', Bhai Rajwinder Singh 'Fauji' & Bhai Ravinderbeer Singh Bhola gave his life for the Sikh nation. Such sacrifices will forever shine on the pages of modern Sikh history and shall never be forgotten.