On April 20, 1961, Bhai Navneet Singh Qadian was born into a Gursikh family of village Qadian, district Gurdaspur, Punjab. His father was Sardar Tirath Singh and mother Bibi Ranjit Kaur. He was their only son and had two sisters. The entire family were Amritdhari Gursikhs. At a very young age, Bhai Sahib showed his yearning to learn about Sikhi and would often go to the local Gurdwara alone to carry out Seva and listen to Katha and Kirtan.
When Bhai Navneet Singh was young, his mother went to see a Sant and took Bhai Sahib along. The Sant looked at Bhai Sahib, patted him on the shoulder and said "Kaka, Sri Jaap Sahib jaroor paria kar" (Young child, make sure you read Sri Jaap Sahib). Even at a young age, Bhai Sahib took these words seriously, he went home and started to recite Sri Jaap Sahib continuously. Within a few days he had learned Sri Jaap Sahib off by heart. Puratan Gursikhs would say Guru Gobind Singh Ji Maharaj showers great blessings on those who know Sri Jaap Sahib off by heart. True to these words, Bhai Navneet Singh was to be blessed with immense Seva for the freedom of Khalistan from the clutches of the Indian government.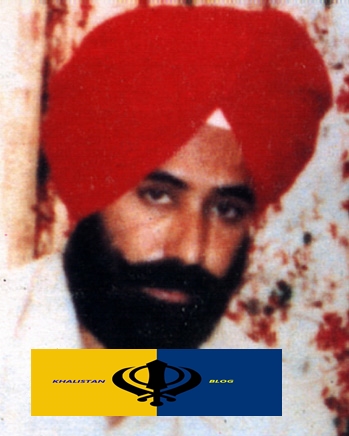 Bhai Navneet Singh Qadian began his education at the D.A.V Senior Secondary School of Qadian, where he completed and passed up to the eleventh grade. Bhai Sahib was an intelligent student and passed his exams with flying colours whilst still keeping strict to his Sikh principles. He went to study a Pre-Engineering course in college Batala. Bhai Navneet Singh also passed this course with similar ease in 1982, following which he was able to secure admission to an engineering College in the city of Bidar, Karnataka. Here he began a degree in Civil Engineering.
During the 1980's, Bidar in Karnataka state was a hotbed of right wing Hindu fascism. During 1984-1985, Sikh students were attacked by heavily armed Hindu fanatics in order to spark communal tensions. Witnessing the daily injustice against the Sikh nation, Bhai Navneet Singh and the other Sikh students together defended themselves against the unprovoked attack with their Kirpans. Instead of targeting the perpetrators of the violence, the local Police arrested Bhai Navneet Singh and two other students. A case of attempted murder under section 30 of the Indian Penal Code was registered against them and they were presented at court. Ten thousand rupees were paid to secure their quick bail.
The whole episode had a massive impact on Bhai Navneet Singhs conscience. It was clear to him that Sikhs were targeted as less than second class citizens throughout India. This episode was instrumental in his decision to pick up arms to defend the Sikh nation against the terrorist government. Following events in Bidar, Bhai Navneet Singh and Bhai Balwant Singh Multani transferred to Guru Nanak Engineering College in Ludhiana, Punjab and moved permanently back to Punjab. In Punjab, Bhai Sahib was witness to the daily murder of innocent Sikhs by the government and the state sanctioned criminal gangs.
After completing his degree, Bhai Navneet Singh obtained work with a contractor at Chaura Bazar near Ludhiana. He worked with him for approximately six months during which time he assisted the construction of several buildings.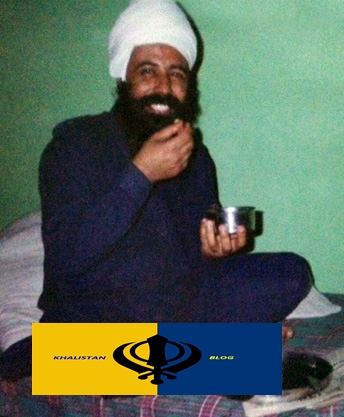 Bhai Navneet Singh Qadian initially took part in the Sikh struggle by working undercover. He kept out of the gaze of the police under the pretence of working as a transporter of Qadian, Batala. During this period Bhai Sahib had carried out many actions leaving the intelligence agencies clueless as to who was behind them. Bhai Sahib had a strong academic background and applied his intelligence to fight for the freedom of Khalistan. Many young educated Sikhs had joined the Khalistani movement as they had realised that they were being treated unfairly by the hostile Indian government.
The day Bhai Navneet Singh Qadian's central intelligence report reached the local police, the officers were bemused that this individual was behind many attacks on security forces. The forces raided the home of Bhai Sahib as he was sat at Maharaj tabiya reciting Bani. With blessings of Satguru the police searched the entire home but could not locate Bhai Qadian. Once the police left the house, the family could not believe that despite Bhai Sahib being in the house he was not found. As it became apparent that Bhai Sahib was now on the radar of the security forces, he left home for good. His first stop after this was at a friend's home to whom he narrated the incident. Such was the blessing of Guru Sahib on his Singhs.
Bhai Navneet Singh Qadian became an active freedom fighter of the Khalistan Liberation Force. He fought alongside some of the most courageous Khalistani freedom fighters, such as Shaheed Bhai Kuldeep Singh Sheikupura.
Associate of Bhai Navneet Singh Qadian
(Interview taken from Sant Sipahi magazine)
"Bhai Navneet Singh Qadian was a very devout Sikh. He would never let his Sikhi principles ever slip and this was the most important thing to him. He would continuously be reading Bani and knew so many different Bani's off by heart it was unbelievable. If you ever got close to him, you could notice that his Simran would be going automatically. Once Navneet got badly injured in an encounter and had a serious wound in his head. He said to the Doctor, no matter what, don't put a pair of scissors near my hair. The doctor then said "I may need to cut some hair so I can put some stitches in." Bhai Navneet Singh got up and said "No it's ok, I don't need the stitches."
The Singh went on to say "Bhai Navneet Singh was a mastermind. He was very intelligent, no one would ever underestimate him. We would sometimes see him coming from far but we would never be able to recognise him, he was a master of disguise, sometimes looking like a business man and other times looking like a labourer. Bhai Navneet Singh never travelled much, but kept a close eye on everything. He knew exactly who was doing what and when. Bhai Navneet Singh would inspire the Singhs by making impossible feats a reality. He would plan many of our main missions; he was always thinking and working on how to achieve our aims."
"Bhai Navneet Singh had a lot of love for the Singhs fighting in the movement. I remember when Bhai Raminderjeet Singh Tainee of Babbar Khalsa was arrested and in jail. Bhai Tainee made a plan pretending to be ill; and the police took him to P.G.I hospital in Chandigarh. Bhai Navneet Singh had good links with all the Jujharoo groups and was good friends with Bhai Tainee. Bhai Sahib sat outside the hospital and waited for the information about where exactly Bhai Tainee was."
"Then all of a sudden Bhai Navneet Singh walked across the road. He and some other Singh's burst into the hospital armed with AK47's. Bhai Tainee was surrounded by armed police officers, but they all froze when they saw the Singhs. Bhai Navneet Singh fired into the air and pushed the officers aside. Everyone was shocked; he forcefully freed Bhai Raminderjeet Singh from the police and walked out of the hospital like nothing had happened. No one could ever imagine that he could do this and walk away unharmed. There was definitely something special about the man, he had no fear and would do whatever was necessary."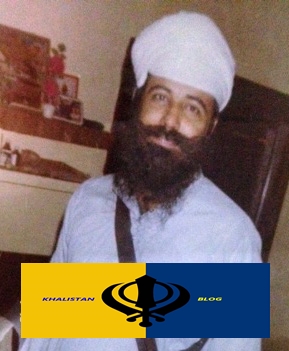 In November 1991 the police arrested, interrogated and tortured Bhai Navneet Singh's mother and father to obtain details on his location. But they were unable to find anything out.
Chandigarh police had failed to locate Bhai Navneet Singh therefore in 1992 they decide to raid village Qadian. They hoped by agitating the villagers, people would get angry towards Bhai Navneet Singh and the police could get information about him. They harassed every person in the village. People were dragged out of their houses, beaten and then repeatedly asked 'Where is Navneet Singh?' No one gave any information. What the police failed to realise was that everyone loved Bhai Navneet Singh; he was seen as a hero standing up to the tyrannical Indian government. To keep face, the police then decided to take two mini buses into their custody and keep them.
The police had concluded that Bhai Navneet Singh had a policy of staying at a location only once and he was impossible to capture alive. The government realised that this group was made up of very intelligent Jujharoos who where always ten steps ahead of them. As the Khalsa became more devoted to the struggle for justice, their enemies became keener on destroying their chance for freedom. The malicious Indian government pumped millions into Punjab. Everyone was offered large bribes and bounties for information on the Jujharoos. The police were licensed to kill without fear of repercussions. Consequently, thousands of Sikhs were killed at the hands of vulture police officials.
Elimination of SP Tiwana
One such beast was Superintendent of Ropar Police (SP), Ranbir Tiwana. He was responsible for dragging young Sikh boys from their houses and killing them in fake encounters. Tiwana was free to carry out whatever he wanted with the government's blessings. Due to his lewd acts, he caught the attention of the Khalistan Liberation Force and made his way onto the hit list. Tiwana was out of control and had to be stopped.
Bhai Gurjant Singh Budhsinghwala put Bhai Navneet Singh Qadian in charge of bringing this killer to justice. But this again would be a very difficult job to accomplish as Tiwana was given full government security at all times and had a car full of six gun men always on patrol with him wherever he went. On February 15, 1992, he was transferred and became SP of Ludhiana Police. Tiwana had been transferred and promoted simply because he had killed hundreds of Sikhs.
The "Engineering Cell" decided that they had to make a highly sophisticated device to catch their prey. It had to be unique and something that had not been tried before, to prevent it from being intercepted by the enemy. They put their minds at work and developed a complex and unique plan.
As reported in an article from the Awaze Kaum Newspaper;
"Three devices were planted in hollow cement pillars on the side of the road. While the vehicle was passing in front of the area covered by explosive devices, three devices planted over a stretch of 30 metres would explode simultaneously. These would have to be carried out using a long cord which was hidden undergone 400 yards away in a field and it used three truck batteries." This was the first time a serial multiple blasts would be used by the Jujharoos and everyone was anxious as to whether it would work.
On April 1, 1992, Tiwana left his home in his Ambassador car, along with another car full of gunmen, to attend a social function. He was travelling from Mundian to Samrala. Bhai Navneet Singh made sure he had planted men at different locations along the way. The Singhs were ready with the remote at hand, and did an Ardaas to Waheguru that they would succeed in their mission. Tiwana's car could be seen coming in the distance with his armed bandits. The time had come to serve justice to this menace and put a stop to his merciless killings. As the Ambassador car was travelling at some speed; the correct timing would be difficult to figure out. The Singh had his thumb on the detonator button, but the car was going too fast and was going to pass the three pillars without being blasted.
Everything seemed like it was happening in slow motion. Then all of a sudden, time stopped. The button was pressed. BOOOOMMMMM, the ground shook. Tiwana's car flew in the air like a plane, flying from one side of the road to the other as the three serial blasts went off. Fire and smoke covered the air like a tornado. It was so powerful that segments of Tiwana were found 500 yards from the scene. Blood was splattered all over the road. The door of the car landed 400 yards away and broke a papal tree in half. The explosion was heard from miles and left a smoke screen of dust for long while after the blast."
Bhai Navneet Singh's master plan had worked. The Singh's let off Jaikaray and then disappeared into the fields. In the aftermath, the police goons looked around everywhere and interrogated everyone in the area but could not find out any info. Finally, the Khalistan Liberation Force had put an end to the inhuman deeds carried out by the butcher Tiwana.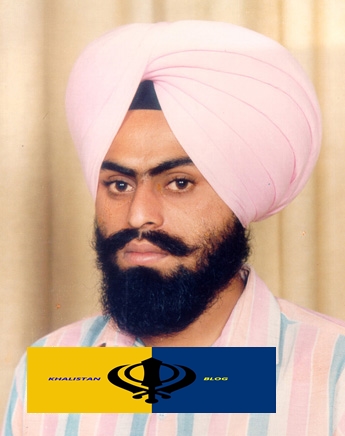 Arrest of Professor Devinder Pal Singh Bhullar
In the last week of December 1994, A Sikh professor by the name of Devinder Pal Singh Bhullar had travelled to Germany to seek Asylum from the Anti-Sikh regime in India. His bid failed and he was sent from Frankfurt to Delhi. He was subsequently arrested and kept in police custody where he was inhumanely tortured and a forced confession to the Bitta attack was signed against his will.
When Bhai Navneet Singh heard that Professor Bhullar had been arrested, he took it upon himself to try and secure the professors release. It was decided that pressure had to be put on a person who had the right influence on the government to get him released. At the time, there was a government official named Ram Niwas Mirdha who was the chairman of a joint parliamentary committee. Bhai Navneet Singh knew Ram Niwas Mirdha was an influential person and was in a position to secure the release.
On February 1, 1995, Rajendra Mirdha, the son of Ram Niwas Mirdha left his Jaipur residence for a morning walk at about 7.00am. He saw a white Maruti car and one man came out of it. The said man asked Rajendra Mirdha about the location of House no. 105 or 106. Before he could reply, he was pushed into the car and taken away. There were three armed persons in the car. Mirdha did not know why he was kidnapped. After some time, Mirdha was taken to a house where the Singh's then told Mirdha that they were the members of Khalistan Liberation Force. A Sikh professor, Devinder Pal Singh Bhullar had been arrested at the Delhi International Airport on his return to India after the German authorities declined to grant his asylum. They explained that they simply wanted this Singh to be released.
The wife of Rajendra Mirdha received a telephone call at about 8:40am from an unknown person who stated that Mirdha had been made hostage and unless Devinder Pal Singh Bhullar was freed, they would not release Mirdha. The caller also stated that he would again telephone her. The police were informed the same day and an investigation had begun in locating Mirdha.
Bhai Navneet Singh had a hideout in a small town called Jagatpura near Jaipur, Rajasthan. He was based at this location where most of the group's plans were devised. Bhai Sahib had often led the corrupt police intelligence agencies on a wild goose chase. Due to Maharaj's kirpa, all previous operations to capture or kill Bhai Navneet Singh had resulted in heavy death toll for government forces. Those who remained alive had to report back empty handed, causing further embarrassment for the police. A prime example of his superior intellect and ability to innovate was shown when he opened a gym in Jagatpura and used it as a cover story to remain evasive.
A fax was sent by another Singh to the government and from this, the police were able to locate the state in which Mirdha was being held. They began questioning everyone on the whereabouts of any Singhs in the area. They started to go door-to-door and enquired whether anyone knew any information. One day, the police knocked on the door where Mirdha was actually being held. Bhai Navneet Singh, Mirdha and one other person were in the house at the time. Bhai Sahib quickly hid Mirdha in the base of a box bed and lay next to him with his AK-47. He had his finger ready on the trigger of his assault rifle, however, when the door was opened, the police saw that no Singhs were in the house and left.
The government began to give up on locating Mirdha. The KLF Singhs were very close to securing the release of Professor Bhullar. Negotiations had begun as to where Professor Devinder Pal Singh Bhullar should be released. The Chief of KLF; Dr Pritam Singh Sekhon spoke on behalf of the Singhs. The convicted rapist alcoholic KP Gill bowed down to the demands and had agreed to release Professor Bhullar. However, the negotiation process was taking time as the Singhs were selecting a suitable location for the release.
According to the Will of Waheguru, the police had managed to locate Mirdha to a house. One person who lived with the Singhs went out to buy some milk. When they went to pay they used a 500 rupee note, which was scarcely used in those days. The shop keeper became suspicious and when the police asked him if he had seen any Singhs in the area or anybody acting suspicious, he told them that there were some people who brought milk with a 500 rupee note.
On the fateful night of February 25, 1995, all the Singhs were together at the house when the police started flooding into the small village. Within no time, the CRPF, the BSF and hundreds of police officers had surrounded the small house. Bhai Navneet Singh had unconditional love for his fellow Jujharoos. Even in the face of such an adverse situation, he told them to leave and ensure Mirdha was released unharmed. Bhai Sahib said he would hold off the enemy alone so they could get away to safety. The firing had already started, Bhai Sahib then insisted that they had to leave and carry on the fight for Khalistan. Bhai Navneet Singh like a true leader stood and led by example, he took up his position and fought off the hundreds of army and police personnel. He roared Jaikaray that shook the walls, as he plastered the surrounding forces with lead bullets from his single AK-47 rifle.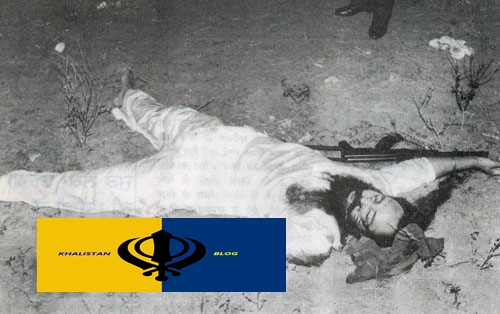 As the other Singhs escaped, they could hear the echo of Jaikaray over the thunderous gunfire. Within minutes there were countless bodies of army and police personnel shredded to bits around the house. Bhai Sahib fired his gun with such intensity and precision that the enemy was unable to close in. Gradually, bullets began to penetrate the thin walls of the house and struck the Singh Soorma several times. Bhai Navneet Singh's body was now pierced with bullets. At this point he roared one last Jaikara and charged out of the house. He riddled the enemy with lead from his AK-47. Fearing the might of the Khalsa, most of the enemy fled while others fell to the ground. Eventually his ammunition ran out. Bhai Navneet Singh Qadian attained Shaheedi and stamped his name in history as a fearless hero. The Khalistan Liberation Force produced some of the most fearless freedom fighters to have ever walked this earth. The brave warriors' lives and love for their people will never be forgotten.
Khalistan Liberation Force Zindabaad. Khalistan Zindabaad.