The all-powerful almighty has given his people such a passionate fire for freedom that it burns away the shackles of slavery. The authoritarian governments throughout the history have tried to suppress this passion for freedom but the lovers of freedom have always fought for it, despite the tortures and brutalities of the government.
After the wounds inflicted by the partition of their homeland, families, and places of worship in 1947, the Sikhs were again hurt in 1978 by the Nirankari massacre. But the 1984 attack on the Golden Temple was the last straw that convinced the Sikhs that they have to fight for their freedom. One of the most prominent freedom fighters in this movement was Bhai Baljit Singh Khela – whose brief life history will be presented here.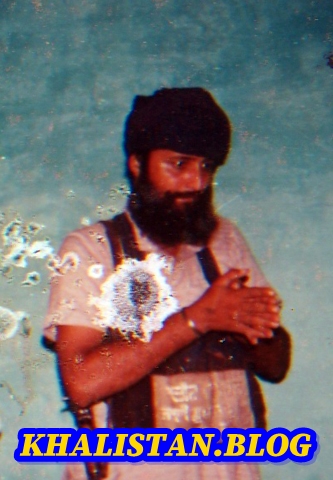 Bhai Baljit Singh was born to Sardar Makhan Singh & Mata Swaran Kaur in 1972 in the village Khela situated in the sacred town of Goindwal Sahib. Bhai Sahib was born in a middle class family and was provided with a good education in the hope for a good future. He completed his B.A and training in typewriting and got a government service in Goindwal sahib.
Despite getting busy in his job and fulfilling his responsibilities at home he always made sure to complete his Nitnem. Bhai Sahib deeply analysed the machinations of central government against Punjab. While in Goindwal sahib, he came in contact with Bhai Sukhwinder Singh Sangha (BTFK) and was so moved and impressed that he resigned from his government job that he had been doing for two and half years, and jumped into the Sikh resistance movement.
Bhai Sahib faced several encounters with the security force, on one such occasion Bhai Baljit Singh Khela and his party entered into a firefight with the central forces near village Turr. Bhai Khela fought bravely and was able to escape safely after killing many of the security force personnel. After this incident Bhai Sukhwinder Singh Sangha started to regard Bhai Baljit Singh as one of his chief comrades and was considered Bhai Sangha's right hand man.
After Operation Bluestar, the government had surrounded all the historic Gurdwaras with security personnel and to keep an eye on and harass the pilgrims. The entrance of Sri Darbaar Sahib at Tarn Taran was also deployed with CRPF. The Jujharoos of the BTFK Sangha group issued three warnings to remove the CRPF personnel from the entrance of Gurdwara Sahib. When no action was taken, Bhai Sangha's group attacked the CRPF with such intensity that the CRPF personnel had to hide in shops to save their lives. Bhai Baljit Singh Khela played a big role in this action.
Bhai Sahib was a deep thinker and thought ahead of times, and as such was opposed to robbery. When somebody looted his scooter, he immediately took action to get it back from the looters and also gave a stern warning to not repeat it.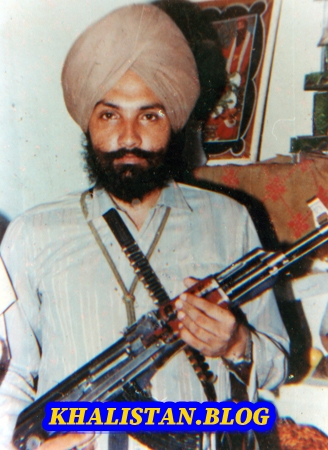 While serving in the resistance movement under the guidance of General Sukhwinder Singh Sangha, Bhai Baljit Singh along with five other Singhs in village Bhullar when on November 3, 1990, the central forces surrounded them on all sides. Both the sides started firing and there was a fierce combat. The brave warriors of Khalsa panth fought to their last breath and last bullet. In this combat, Bhai Sukhwinder Singh Sangha, Bhai Baljit Singh Khela and Bhai Bikramjit Singh Narla attained Shaheedi (martyrdom).
Bhai Baljit Singh Khela's father Sardar Makhan Singh and his younger brother Bhai Sukhjit Singh Khela were also tortured by the police. Sukhjit Singh is still enduring the pain of the wounds inflicted by the police torture.
The sacrifice of Bhai Baljit Singh and other countless Singhs will always be an inspiration for the future generations. Bhai Sahib joined the movement despite having a government job, when he could have lived a comfortable life. But he placed the interests of his community above his personal interests.
According to a poet –
Where the roads have been paved with the blood of my brothers,
Where my people have come out of slaughterhouses, onto the glorious pages of history,
O mother earth! Give birth to my brothers on such a blessed land!
Article by Bhai Jagjit Singh Doday, printed in Khalsa Fatehnama magazine, (May 2009).