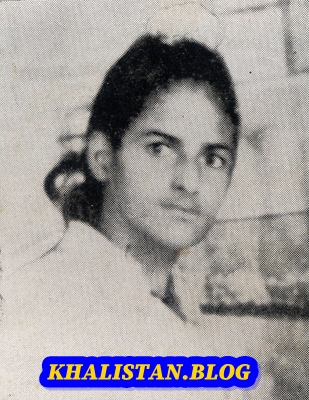 Of all the Kanpur Shaheeds, Bhai Balwant Singh was the youngest, at the tender age of only 15. This child was born in Kanpur while his father, Sardar Maha Singh had moved from village Khoreean Dist. Gujarat. This child was only five months old when he was orphaned by the passing of his father. The Shaheed had one sister and three brothers. Their mother, Mata Sumitra Kaur worked in peoples homes and with great effort raised the entire family. This child had received his early education at Guru Nanak School Kanpul and after passing the eight grade began to sell goods from a cart so that the family's expenses could be met.
This family had a deep love with the Guru Ghar. The Shaheed's grandfather, Sardar Gian Singh and Great Grandfather Sardar Sukha Singh all served the Panth in the Gurdwara Reform Movement.
Shaheed Balwant Singh used to tell his mother "get me the blessings of Sant ji so that my body too can serve the panth." Four bullets struck the Shaheed's body and a sword had cut his jaw. Bhai Gurcharan Singh, Balwant Singh's older brother was also hospitalised with a bullet in the right side of his torso.