Amongst the brave Sikh Freedom Fighters hailing from the Malwa region of Punjab, the name of Bhai Darshan Singh Babbar is held in high regard. Bhai Darshan Singh was born on June 17, 1951 in village Aklia Khurd, district Bathinda into the household of Sardar Hazura Singh and Mata Daleep Kaur.
In February 1988, Bhai Darshan Singh was arrested and after enduring a lengthy period of inhumane torture was sent to jail. After spending 9 months in jail Bhai Darshan Singh received bail and was released to return home where he attempted to return to a normal life and look after his elderly parents. However the local Police made it a priority to harass and abuse the family on a regular basis. Eventually in September 1990, Bhai Darshan Singh left his family home and once again went underground. At this point Bhai Darshan Singh was actively involved in Sewa with Babbar Khalsa Jathebandi and began punishing the anti-Sikh elements in the area.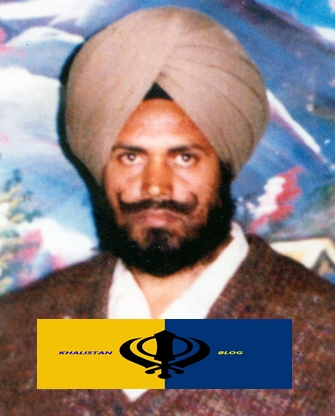 Sadly, much like throughout Sikh history, it was the treachery and betrayal by those considered as their own that led to the fateful end of the Singhs. Many of these Singhs were arrested due to infiltration of the group by a Police informant and subsequently attained Shaheedi in fake police encounters. Bhai Darshan Singh along with Bhai Jugraj Singh 'Rasheen' Babbar, Bhai Pargat Singh 'Fauji' Babbar, Bhai Gurmeet Singh 'Laadi' Babbar, Bhai Davinder Singh 'Kalsian' Babbar were captured alive during Police raids and later killed in fake Police encounters. However, the story fed to the media during a press conference held by the Police, was that 6 Singh's had been killed during an intense and lengthy encounter on March 6, 1993, near the village of Balluana, Bathinda.
Taken from Twareek Babbar Khalsa by Bhai Karamjit Singh Sikhanwala